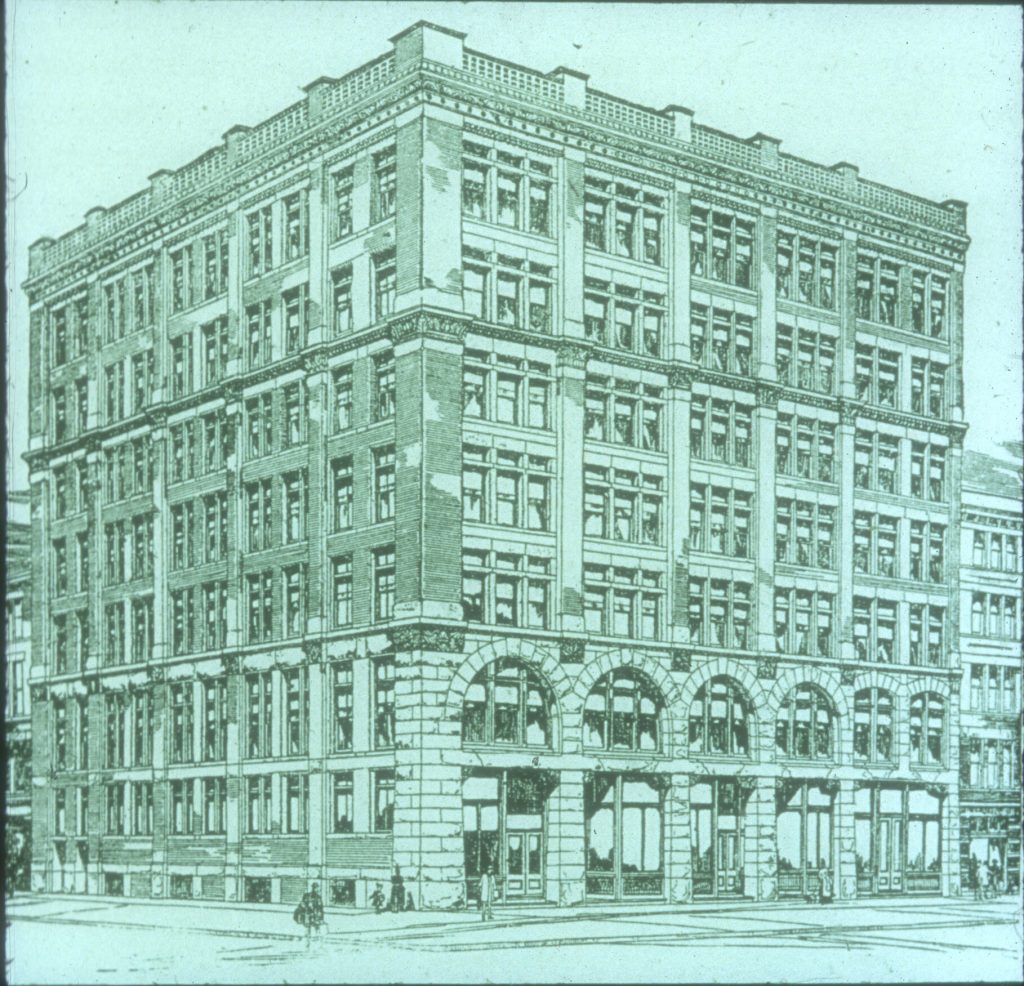 Engraving from Commercial and Architectural St. Louis (published Jones & Orear, 1888).
Location: 807-825 Washington Avenue, St. Louis, Missouri
Date of Construction: 1888
Date of Demolition: 1982
Architect: Alfred Rosenheim
Alfred F. Rosenheim was one of five St. Louis architects admitted to the A.I.A. in 1885. Among his early works in St. Louis were the following: The Rosenheim Building (1889); a building for Drey and Kahn (1889–1890); the Columbia Club (1893); and, with Theodore Link, the second Shaare Emeth Synagogue (1895).
Rosenheim was among a small group of significant and distinguished late 19th century architects who practiced in the city. This group included Eames and Young, Isaac Taylor, Albert Swazey, and Theodore Link, among others.
The Rosenheim Building, located at the corner of 9th and Washington, was one of several major new commercial blocks constructed on this section of Washington Avenue during the building boom of the late 1880s and early 1890s. It was published in Yeakle's The City of St. Louis Today (1889), where it was designated as a model building of its kind, and in Commercial and Architectural St. Louis (1888). Its construction coincided with that of Shepley, Rutan, and Coolidge's Lionberger Building on the opposite side of the street.
In my view the Rosenheim Building was of exceptional design, characteristic of the best in contemporary St. Louis commercial building design. Along with the Commercial Building of the same period, it was, in its relative simplicity, treatment of façade articulation, and restrained use of ornament, an important precursor of Louis Sullivan's Wainwright Building.
Text by Lawrence S. Lowic, edited.