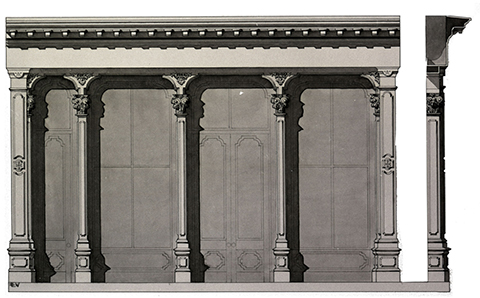 Above: Cast iron storefront from 904 S. 4th Street, St. Louis (1876) J. Christopher & Co. Architectural Iron Works
Overview
By 1885, St. Louis had become the center of architectural cast iron production in the United States. The city's proximity to Missouri's Iron Mountain (the largest known deposit of iron in the U.S. at the time), coupled with St. Louis' river and rail transportation networks, allowed cast iron to become a major export to developing cities and towns throughout the south and the west. Cast iron building fronts in the collection were manufactured in St. Louis from 1840 to 1916 and represent work produced by St. Louis's nine major architectural iron foundries.
Designs span the early Greek Revival period through the Arts and Crafts era. The collection encompasses a variety of architectural castings, structural components, and municipal castings including some of the largest single-piece ornamental castings ever created. The collection includes over 100 complete cast iron storefronts manufactured by the following foundries: T. R. Pullis & Sons; Pullis Brothers; J. Christopher & Company; Christopher & Simpson; St. Louis Architectural Iron Company; Globe Iron & Foundry Company; Gerst Brothers Manufacturing; Scherpe & Koken; Scherpe Koken & Graydon; Shickle, Harrison & Howard; McMurray & Judge, McMurray-Smith-Judge; Union Iron & Foundry.
Essays on Structural & Ornamental Cast Iron
Coming soon!