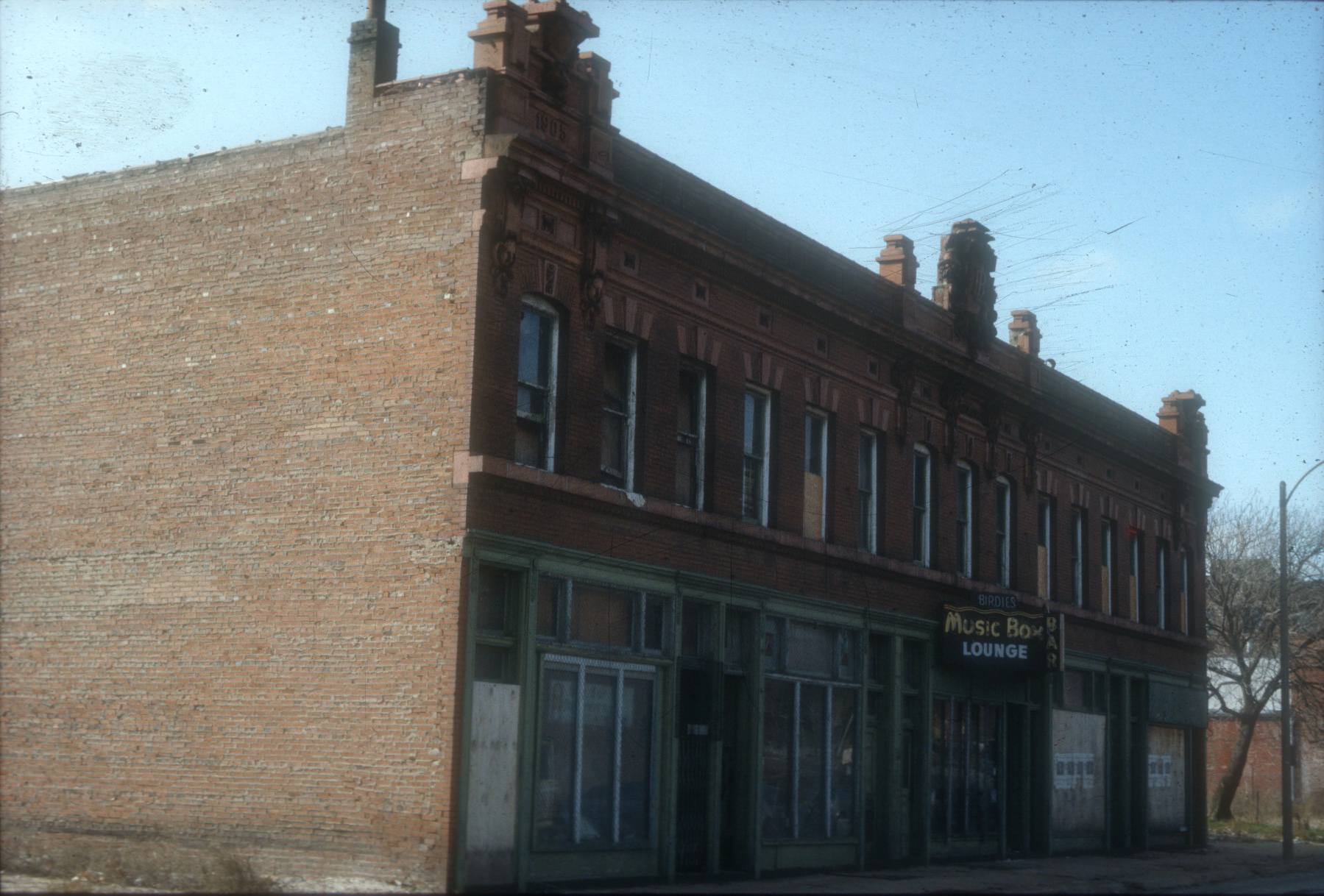 Location: 3920-30 Olive Street, St. Louis, Missouri
Date of Construction: 1905
Date of Demolition: 1987
Architect: Widmann, Walsh & Boisselier
Federick Widmann, FAIA (1859–1925), Robert W. Walsh, FAIA (1860–c. 1929), and Caspar D. Boisselier, FAIA (c. 1854–1925) were partners in the firm known from 1885 to 1897 as E. Jungenfeld & Co. Jungenfeld & Co. designed the 1895 office for Dr. Starkloff at 3153 Longfellow and may have been the architects of the house which replaced the tornado-damaged one at the same address in 1896. Widmann's own house, 3545 Longfellow, was designed by the firm in 1908. Widmann was born in Wurtemburg, Germany, came to St. Louis in 1874, and worked as a carpenter's apprentice before entering the architectural firm of Thomas W. Walsh and Edmund Jungenfeld as draftsman. Jungenfeld opened a separate office in 1880; Widmann was his superintendent by 1884—the year of Jungenfeld's death. Widmann, Robert W. Walsh, and Boisselier formed their partnership in 1885. Robert Walsh's training included work as draftsman and architect from 1873 through at least 1881 in the office of his father, Thomas—a major St. Louis architect whose St. Louis career began before the Civil War. (The senior Walsh continued his own separate practice until his death in 1890.) Little is known about the training of the St. Louis-born Boisselier who designed 2956 Hilton in 1908 except that he worked as draftsman and architect for unknown firms from 1876 until becoming a partner in E. Jungenfeld & Co. Boisselier left the firm in 1906 and St. Louis in 1909; Widmann and Walsh continued together until Widmann's death in 1925. The three partners were members of the St. Louis Chapter of the AIA by 1895 when Walsh was elected President.
The firm specialized in brewery architecture and designed buildings for the once-great Lemp Brewery, the Green Tree Brewery, the Brinckwirth-Nolker Brewery, the Columbia Brewery and the St. Louis Brewery Association. Anheuser-Busch was a client in St. Louis and other American cities. The partners also designed houses, stores, flats and factories including a plant for E. Lungstras' dry cleaning company in 1893. Widmann, Walsh & Boisselier were assigned the design of the major Machinery Hall at the 1904 World's Fair and were architects of the popular Tyrolean Alps beer garden on "The Pike." Other notable commissions were the Convent of the Good Shepherd, buildings for the Kinloch Telephone Company. The Orthwein House at #15 Portland Place, the baronial residence of August A. Busch, Sr. (at Grant's Farm) and the Lyn (formerly Victoria) Theatre designed by Widmann & Walsh in 1913. Among the lesser commissions of the firm still standing are the handsome block of flats at the southwest corner of Accomac and Nebraska (1895) and the Korte Building at 2500-10 North 14th Street (1906). The adjacent houses of Walsh and his mother in West Cabanne Place were designed by the firm in 1904.