Intern Positions Available at the National Building Arts Center
The St. Louis-based National Building Arts Center (NBAC; nationalbuildingarts.org) seeks applications for internships in cataloging, conserving and sorting its material and library collections. The internship can begin any time.
The NBAC promotes public awareness of the crucial roles of architecture, manufacturing, construction, and urban design in our built environment.
Located in Sauget, Illinois, the NBAC is a unique, emergent study center housing the nation's largest and most diversified collection of building artifacts, supported with a research library offering broad holdings in architecture and allied arts. Our collection represents the single largest effort toward understanding the American built environment and the historical process of its creation.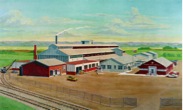 Description of Internship
The intern will perform designated tasks related to specific projects in its collections, enumerated below. The successful applicant will have some coursework completed in library science, museum studies, history, architecture, or architectural history. Willingness to commit to the consistent workflow needed for processing large numbers of items is a must.
The intern will create a schedule with the NBAC based on availability and need, and will receive an assignment for one or two of the projects described below. Internship terms can be one semester, six months or one year. We are flexible about the starting date for internships.
Candidates should submit a cover letter and résumé, along with at least one professional or academic reference.
Projects
Interns may perform needed tasks on the following projects:
Rehousing the United Railways and St. Louis Transit Company correspondence and construction records collection. Consisting of 10-15,000 items from the early 20th century, these letters and replies need to be rehoused in files and sheet protectors and organized chronologically. Topics cover a broad range of early public transportation and St. Louis city history.
Organizing and Cataloging the Mesker Brothers Iron Company archives. The collection includes company documents dating from the 1880s through the mid-twentieth century. Mesker Brothers Iron Company supplied metal storefronts, as well as complete facades through a mail order catalog to various commercial enterprises across the country. To date over 4000 extant buildings in 1667 communities have been identified.
Creating and implementing a consistent naming convention for paper information files. The NBAC's large collection of pamphlets, correspondence, and ephemera has recently been moved from many separate locations into one bank of file cabinets, and needs relabeling and some reorganization.
Website content development using WordPress. The website for the National Building Arts Center is a critical aid to the researcher looking for information about the built environment in the United States. This work will include collections research on building material manufacturers, de-constructed historic buildings and artifacts.
Contact
Emery Cox
emery@nationalbuildingarts.org
314-922-5500
National Building Arts Center
2300 Falling Springs Road
Sauget, IL 62206